In the spring of 2021, social networks began to discuss new anti-stress toys "simple dimple" and "pop it". This is children's entertainment that has replaced Squishy and Spinners and has become incredibly fashionable in Tiktok.
What is Simple Dimple
Simple Dimple (or Simpl Dimpl) is a silicone toy with several convex-concave parts. The anti-stress effect is achieved by repeatedly pressing these dimples.
Initially, Simple Dimple was purely children's entertainment. With its help, you can, for example, develop fine motor skills of the hands. The first toys of this kind appeared back in 2019. But they became a real hit only at the beginning of 2021.
Simple Dimples come in a variety of shapes and sizes. Visually, they look like ice cube trays. They are often made in the form of a key fob or a phone case.
What is Pop It and what is the difference between Simple Dimple
Pop It functionally similar to Simple Dimple. But the toy has one important difference. Pop it is an antistress in which all dimples or bubbles are of the same size.
Most often Pop-It is large, round, or square. It has about 30 bubbles, while a simple dimple can have from two to five.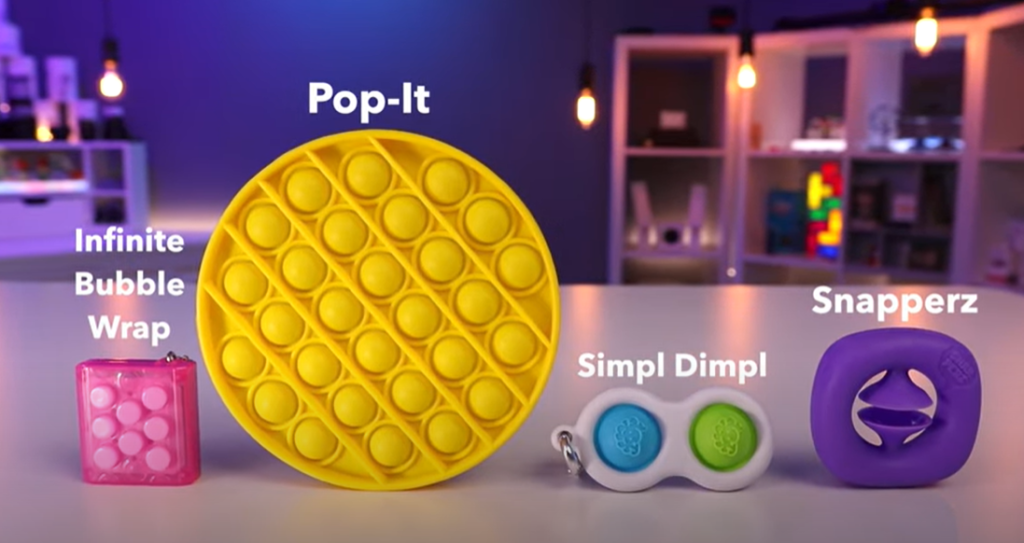 In a way, this anti-stress is reminiscent of bubble wrap. She has been delighting both children and adults for several decades. But unlike this tape, Simple Dimple is reusable. After pressing in all the dimples, the toy can be turned over, and the process will start over.
Pop It is also made of silicone. And its main function is to calm the nerves. This is probably why children's toys have become so popular among adults.
Simpl Dimpl and Pop-It on TikTok
In March-April 2021, jokes about these toys began on Tiktok and other social networks. Adults learned about the existence of Simple Dimple and Pop It and were horrified that they no longer understand the language of the young.
For most people, pop-it resembles an ice cube tray. Therefore, in Tiktok, this comparison is often played up.
So far, toys have not reached the Russian market on a large scale. They can be ordered from several major marketplaces. But the variety of assortment is still depressing. Therefore, people began to make their own toys and show the process on video.
The hype around simple dimples and pop it can be compared to the popularity of spinners in 2017th. Then spinning toys completely took over the world, they were sold in every store and became the subject of jokes and memes.