VSCO Girl – is a youth subculture of girls who often use the VSCO application and have a certain set of accessories. Typically, these are hydroflask water bottles, chokers, Airpods, polaroids, etc.
Where did VSCO Girl come from
Massively about VSCO Girl started talking in the early summer of 2019. But, of course, the origins of this phenomenon are more ancient.
The VSCO application, which allows you to process photos, appeared in 2011. A wide circle of people, these four letters are known for hashtags on Instagram. Since about 2015, they often began to flicker under the photo of young girls.
But VSCO is not just an instagram filter. Unlike Instagram, in this application you can not put likes and comments. VSCO has about 30 million active users per day and more than 2 million paid subscribers. And more than 50% of them are girls under 25 years old.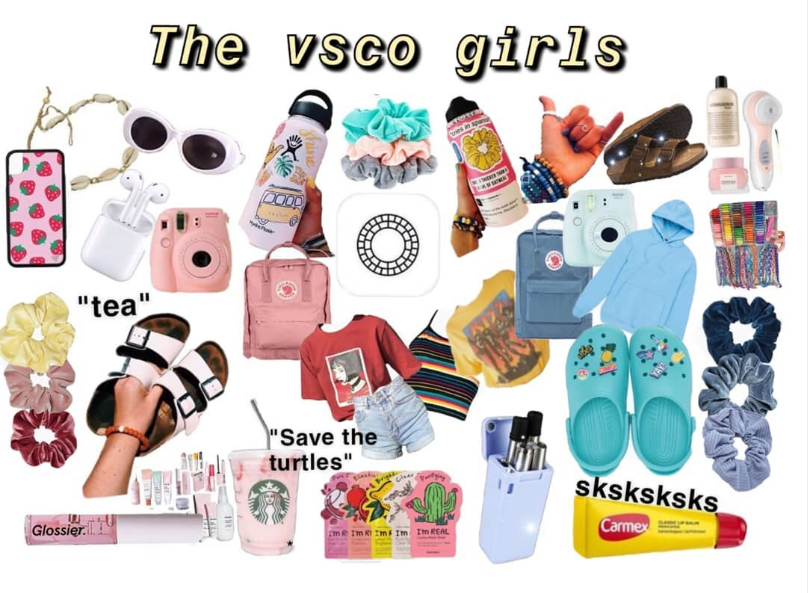 Based on this, at the end of 2017, a trend began to emerge. Photos of many VSCO users are alike. They are united by a special aesthetics, which consists of individual small parts. For example, oversized t-shirts, hydroflask water bottles, AirPods, etc. Gradually, the girls began to copy the images of each other and take identical photos. From this a new subculture has developed.
Who are VSCO Girl
For the first time, the VSCO Girl formulation was used by the Greer Jones youtuber. On January 30th, 2019, she published the video "becoming the ultimate VSCO girl". The video scored a little over 200 thousand views.
On June 14th, 2019, the first VSCO Girl entry appeared in the Urban Dictionary. Here is the definition given by the author:
VSCO Girl is a very aesthetically pleasing (extremely pretty) girl who edits all her instagram pictures with the vsco app with the filter C1. She will normally have a hydroflask, any type of choker, fjallraven kanken, or a polaroid camera.
Since then, a dozen other definitions have been added to the Urban Dictionary, but they all agree on a common understanding of VSCO Girl as "new Tumblr Girl", rich and positive, emotional girls.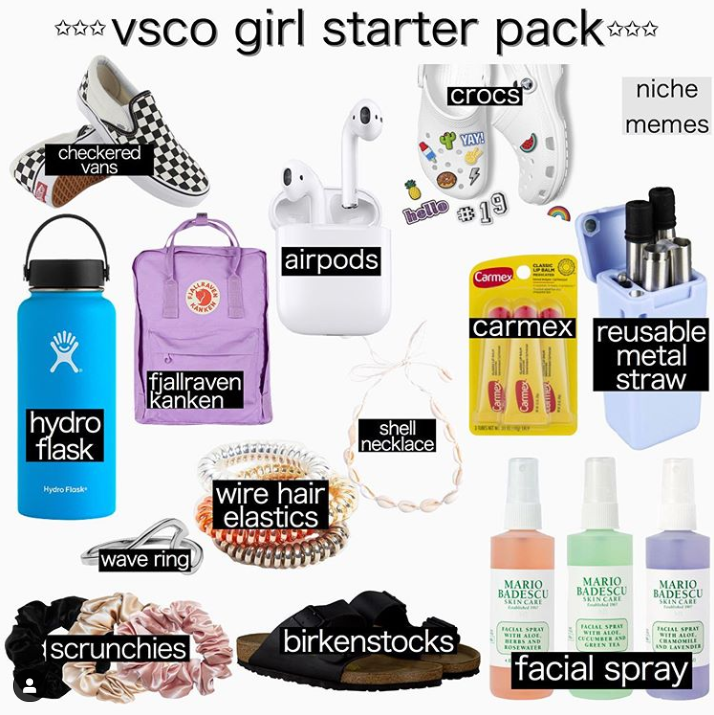 The VSCO Girl subculture began to spread actively in the summer of 2019. Dozens of guides on how to become a VSCO Girl appeared on YouTube. As a rule, these videos contained a set of brands that Visco Girl should have with them. If you summarize and highlight the main features of VSCO Girl, you get the following list of things:
Water Bottle (Best HydroFlask)
Vans Sneakers or Birkenstocks Sandals
Crocs
Choker (best with shells)
Fjallraven Kanken Backpack
Polaroid
Top bando
High Waist Mini Shorts
T-shirts for a couple of larger sizes
Mario Badescu Cosmetics
Glossier Lip Balm
Large scrunchie instead of a bracelet
VSCO Girls memes
Along with the moment of identification of a new subculture, memes appeared about it. Previously and most actively, TikTok users began to make fun of VSCO Girls. Since June, videos have begun to appear there that mimic the typical Visco Girl.
In addition, VSCO Girls sleepovers became a separate meme. In fact, these are typical teenager sleepovers with a group of girls from 2000s American films. On the same TikTok, videos are popular that demonstrate such overnight stays in atypical places: pools, trampolines, backyards, etc. Probably, in the wake of this trend on Reddit, a meme about the typical nights of girls and boys appeared.
VSCO Girl has its own memes, which have also become popular thanks to TikTok and YouTube. The most common ones are: And I oop and Sksksksk.
And I oop – the phrase drag queen Jasmine Masters, a participant in the show RuPaul's Drag Race. On October 28, 2015, she uploaded a video that was often interrupted by And I oop. An excerpt from the video went viral in March 2019. On Twitter, it became a typical reaction to something unexpected. Thanks to TikTok, the meme And I oop became associated with VSCO Girl.
this is the one, this tweet right here pic.twitter.com/vbVWJeFZ8K

— ayee dayyuummm (@eazy_a_714) March 1, 2019
Sksksksk – onomatopoeia based on the quick and alternate pressing of the S and K keys on the keyboard. Used to express surprise, shock, or excitement. The meme came from Black Twitter. Sksksks usually write at the end or beginning of the post when there are literally not enough words to describe something exciting or exciting.
no one:
absolutely not a soul:
vsco girls: pic.twitter.com/q9rAEn4bW8

— vic (@chilloutvic) August 9, 2019
Over time, the so-called Stan Twitter began to use the Sksksksk meme
In 2019, the meme Sksksksk was inherited by Visco Girl. It was they who transferred this design to TikTok and began to repeat in their videos as a word-parasite.
Gallery