Toss a Coin to Your Witcher (Oh Valley Of Plenty) – is a viral song from The Witcher Netflix series performed by character Jaskier. The song about the coin was very sticky, which netizens joke about. Some admire the song and embed it in other videos.
Origin of Toss a Coin memes
The Witcher series based on the books of Andrzej Sapkowski was released on December 20th, 2019 on the Netflix streaming platform. Henry Cavill starred Geralt. In the second series, bard Jaskier (actor Joey Batey) sings the song.
Toss a coin to your Witcher
O' Valley of Plenty
O' Valley of Plenty
O'
Toss a coin to your Witcher
A friend of humanity
This composition first introduced on December 6th, 2019, the song was made available for streaming on SoundCloud, where it received over 147,000 streams in three weeks.
Immediately after the release of the series, the audience began to joke about the song. Some liked it, others seemed too intrusive and annoying. But in any case, even those who did not watch The Witcher found out about it.
Normal People on a Friday night at 1am:

Asleep

Me:

'Toss a coin to Your Witcher
O' Valley of Plenty' pic.twitter.com/5Fy9hA3nXc

— Liam Redman (@liam_redman) December 21, 2019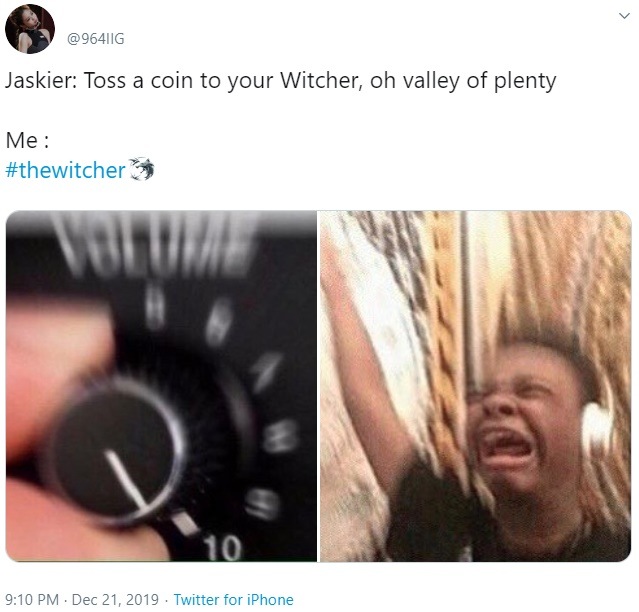 In a few days, Jaskier's song turned into a separate meme: the phrase is added to different pictures, and the song is applied to the video. For example, on a video where Baby Yoda presses a button.
Meaning
Jaskier's song attracted the attention of network users due to the popularity of the series The Witcher, which was one of the most anticipated premieres of the end of 2019.
The song's motive is very simple, easy to remember and eaten into the brain. It makes someone laugh, someone annoys. But in any case, the song's popularity is only growing. It is imposed on different videos. The phrase about the minted coin is distributed as a text meme or in conjunction with a wide variety of pictures.
Gallery
when the beat drops on toss your coin to a witcher #TheWitcher pic.twitter.com/x9aXzAuPZn

— lilac and gooseberries bitch (@yennsstrap) December 22, 2019
#TheWitcher
Jaskier: 🎶 Toss A Coin To Your Witcher, Oh Valley Of Plenty 🎶

Me: pic.twitter.com/Ks7or6AuVy

— Daniel Farrell (@DocFarreller) December 22, 2019