House Speaker Nancy Pelosi announced a formal impeachment inquiry of President Donald Trump. The reason was his telephone conversation with Ukrainian President Volodymyr Zelensky. Congress believes that Trump used Zelensky in his political interests. A possibility of Impeachment of Trump caused a violent reaction over the internet.
At the end of September, U.S. media reported that in July 2019, during a telephone conversation with Ukrainian President Vladimir Zelensky, U.S. President Donald Trump asked him to contribute to the investigation into Hunter Biden, the son of former U.S. Vice President Joe Biden.
Hunter is board member of Burisma Holdings, an oil and gas company working in Ukraine. And his father, Joe, is a representative of the Democratic Party and Trump's main rival in the 2020 presidential election.
A week before Zelensky's call in July, Trump said the United States was suspending military assistance to Ukraine. On September 24, during the UN General Assembly, he announced that he would resume payments if Europe began to help Ukraine. Media believes that Trump used military assistance as a lever of pressure on Zelensky.
The US Congress required Trump to publish a transcript of the conversation with the Ukrainian president immediately. He refused. In response, US House Speaker Nancy Pelosi announced that Congress is initiating impeachment inquiry of President Donald Trump.
The times have found us. The actions taken to date by the President have seriously violated the Constitution. It is for this reason that the House of Representatives is moving forward with an official impeachment inquiry. pic.twitter.com/cHq7zgKJ1g

— Nancy Pelosi (@SpeakerPelosi) September 24, 2019
Trump reacted to this news on Twitter. He also announced that he is going to publish a record of his conversation Zelensky soon.

The news about the possible impeachment of Trump excited the users of the network, they began to publish memes and gifs with reactions.
OMG OMG OMG ITS HAPPENING ???✨✨✨✨✨??? trump is over party #ImpeachTrump pic.twitter.com/9fn0DeB7ih

— Max (@friesaremylife) September 24, 2019
Nancy Pelosi and House Democrats on their way to impeach Donald Trump #impeachment #ImpeachTrump pic.twitter.com/YJjjdIvtt1

— Dania (@daniarv25) September 24, 2019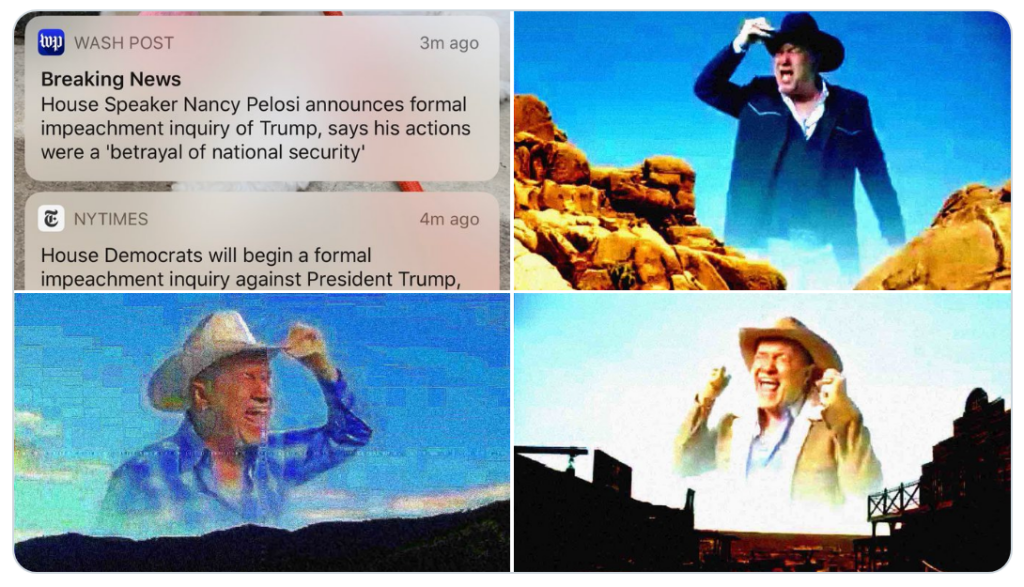 ???‍♀️ #Lewandowski #Impeachment #Funny

Another day …

Another fight about politics on Twitter. pic.twitter.com/FdzkBqkUEB

— Clear Cider (@TheClearCider) September 18, 2019
Let's get this party started!#ImpeachTrump pic.twitter.com/u7gW6INgFt

— #KingQueenMoe??? (@PralineQueen1) September 24, 2019
#ImpeachTrump *Nancy Pelosi announces impeachment inquiry*
Democrats: pic.twitter.com/PoHWLJUWUi

— ?️ruhgressive (@bruhgressive) September 24, 2019
Twitter right now.

#Impeachment pic.twitter.com/5U65W5FthH

— Ahmed Baba (@AhmedBaba_) September 24, 2019
Well.

Was it good for you?

🙂 #Impeachment pic.twitter.com/OUolJlnu2T

— Louise Mensch (@LouiseMensch) September 24, 2019
Nancy Pelosi's evolution on #impeachment this year pic.twitter.com/xKlsYvFYgv

— Declan Cashin (@Tweet_Dec) September 24, 2019